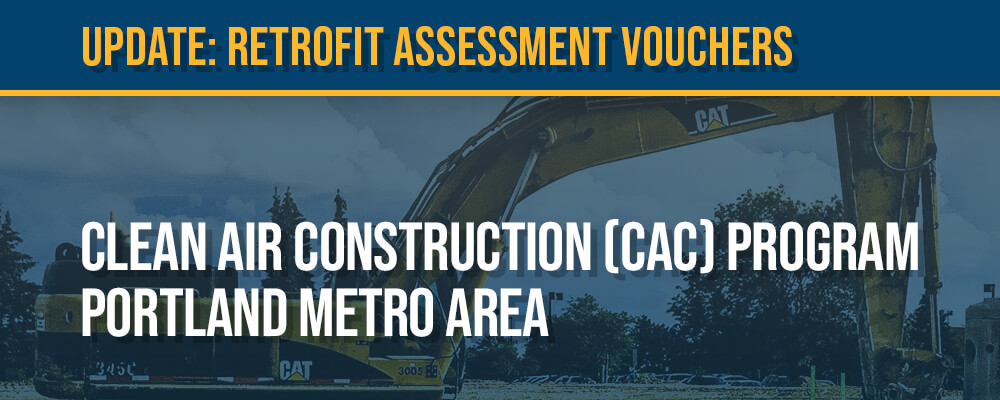 Retrofit assessment vouchers now available
The Clean Air Construction (CAC) Program. 
Public agencies in the Portland Metro Area have partnered together to reduce diesel emissions from construction projects through the Clean Air Construction (CAC) Program.
These emissions reductions will be accomplished in 2 ways:
1. Enacting idle reduction procedures on construction sites. A phase-in schedule that restricts older diesel engines from operating onsite, requiring retrofit or upgrades for non-compliant equipment.
2. This regional program requires contractors on applicable projects to register equipment online. Compliance with the CAC requirements is verified in several ways, including onsite audits.
There are various state grant programs available to assist with the costs of retrofitting your older diesel construction vehicles. CAC also offers free technical assistance to small firms and COBID-certified contractors
Participating in reducing diesel particulate matter emissions will provide Portland residents with better air quality, eliminate potential noncompliance fines, and see the real-time results of your efforts.
The phase-in schedule describes requirements for all diesel-powered nonroad construction equipment greater than 25 horsepower and all on-road dump trucks and concrete mixers used on public construction projects.
All equipment working on a CAC project will need to be registered in CAC's online compliance database, The Yard.
Schedule Your Fleet Assessment Today!
The City of Portland is offering free fleet assessments and compliance plans for COBID-certified and small firms in light of the Clean Air Construction Standard (CAC) requirements that went into effect on January 1, 2022.
Review of equipment and vehicles that are subject to the CAC regulations

A compliance plan that indicates the date by which your equipment can be used on a CAC site, and which equipment can be upgraded for extended compliance

An inventory of equipment that will help you meet CAC requirements, including registration in the CAC database

Most of the information needed to apply for future grant opportunities.
GET MORE INFO & ASSISTANCE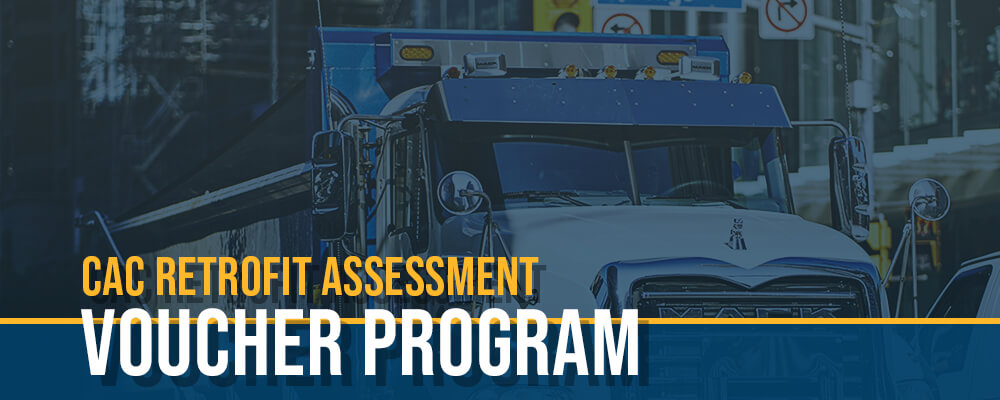 CAC Retrofit Assessment Voucher Program
One way to comply with Clean Air Construction requirements is to install and maintain an engine retrofit. Retrofitting may be appropriate for older equipment with engines manufactured 10-15 years ago or more. For some equipment, a retrofit can be very effective at reducing diesel emissions from engine exhaust.
Who can apply for a retrofit assessment voucher?
COBID-certified or small construction firms that currently perform work as a subcontractor or a prime contractor with an agency in the Clean Air Construction Collaborative may apply.
A voucher provided by the Clean Air Construction Program covers the cost of the retrofit assessment.
What does the retrofit assessment provide?
An assessment is the first step to determine if engine retrofit is a suitable solution for a particular vehicle/piece of equipment. If a retrofit is suitable, a diesel particulate filter (DPF) or a diesel oxidation catalyst (DOC) may be recommended, and associated costs will be outlined.
In some cases, the assessment may find that retrofit is not suitable. If this is the case, the Clean Air Construction program will help you identify other compliance pathways.
Who conducts the retrofit assessment?
Engine retrofit specialists at Diesel Emissions Service (DES) provide this service in the voucher program. Diesel Emissions Service is a leader in the application of retrofit technologies and has installed over 18,000 emission control devices since 2006. DES is authorized by manufacturers to do this work for all major makes/models of nonroad and on-road diesel vehicles/equipment.

How do I request a retrofit assessment voucher?
In the email, please include:

Name of business

The agency/agencies your business holds contracts within the Clean Air Construction collaborative

Primary contact name, email, and phone number

If COBID certified, please include the certification number and type

If not COBID certified, please list bonding capacity (for small businesses)

Include the equipment/vehicle registration number (or Equipment ID in the absence of a registration number) from The Yard (Portland.gov/CAC/TheYard) for each piece of equipment/vehicle requested.
What happens after I make the request for a voucher?
After eligibility is verified:
The Clean Air Construction Program will provide a voucher code and contact information for the retrofit assessment specialists.

Appointments for the assessment can then be scheduled directly with the retrofit assessment specialists (Diesel Emissions Service) at this point.
What can I expect during the retrofit assessment?
Non-road vehicles:
The technician will record all necessary information about the equipment and determine whether it is safe to install a retrofit while the machine is in operation. DES will then decide if the equipment is suitable for a Passive system, Active system, or Diesel Oxidation Catalyst based on their review. If a Passive system can be utilized, a data logger will be installed to track the temperature of the engine exhaust. The data logger will be removed once the required operating hours have been completed. The results will be available within one week.
On-road vehicles:
During the appointment, a technician will document all necessary information about the vehicle and determine the best location to install the retrofit. A temporary data logger will be installed in the exhaust stream to monitor the temperature of the engine exhaust, which will provide insight into the vehicle's duty cycle. Once the required time for testing has been completed, the truck will return to the location to have the data logger removed. The results of the test will be available within one week.
On trucks that cannot use a passive system, the same process applies but a data logger will not be installed.
What's the next step after the retrofit assessment?
The vendor will send a recommendation report for diesel emissions reduction technologies to the contact email of each participating firm.
The Clean Air Construction coordinator will then follow up with any additional information or resources about the report recommendations. Grants or other resources to help offset the cost of retrofits may be available. The coordinator can provide more information about these resources.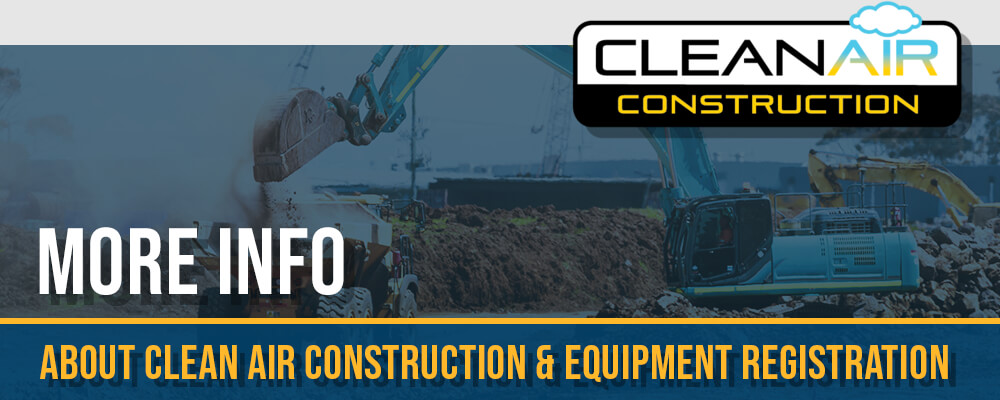 More Information About Clean Air Construction & Equipment Registration
FAQ Section:
Tap/click the questions to expand/view the answer.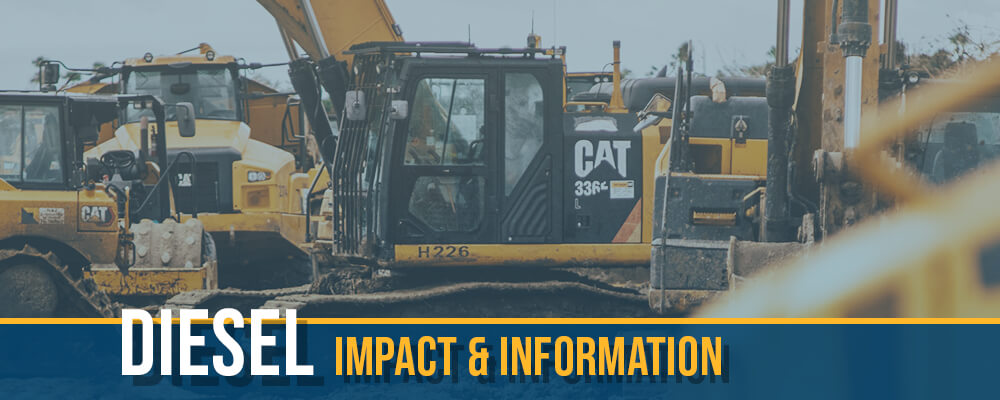 Important Diesel Information
What is the significance of the diesel engine?
Diesel engines are a vital component of modern life, known for their high power output, fuel efficiency, and strong torque at lower speeds.
They are widely used to transport commercial goods across Oregon and the rest of the country, as well as to power a significant portion of heavy construction equipment. While new technologies offer the potential for cleaner engine alternatives, the reliable and durable diesel is likely to remain an essential part of commercial activity for the foreseeable future. However, the major issue with diesel engines is the air pollution they produce.
Does retrofit equipment affect the effectiveness of my diesel equipment?
Successful retrofits are very common as technology has improved over the years – but success also depends on how well the equipment owner understands how to maintain the retrofit device.  The CAC Committee is working on training materials related to maintaining retrofits and will update resources as they become available on the Clean Air Construction Assistance page.
What is diesel exhaust?
Diesel exhaust is produced when fuel is burned in a diesel engine, resulting in a complex mixture of gases, fine particles, and toxic air pollutants. The main gases of concern are carbon monoxide, carbon dioxide, nitrogen oxides, and nitrous oxide. Major particles include soot, hydrocarbons, sulfate, nitrate, and metals such as aluminum, iron, silicon, titanium, and zinc. The exhaust also contains various other toxic gases and particles, including formaldehyde, acetone, and polyaromatic hydrocarbons (PAHs). The specific composition of diesel exhaust varies and is influenced by factors such as the type of vehicle, fuel type, use or task of the vehicle, vehicle speed, and maintenance status. Weather conditions, including air temperature, can also affect the gases and particles present in the exhaust.
What are the problems associated with diesel exhaust?
Diesel engines release pollutants that can harm the environment and impact human health. These pollutants can be deposited on land and eventually make their way into water bodies, causing acid rain and increasing nitrates in wetlands, lakes, and streams. Acid rain and soot deposition can also cause metal corrosion and reduce the lifespan of buildings, bridges, and other structures.
Communities near sources of diesel emissions, such as busy truck and bus routes, areas of chronic traffic congestion, freight terminals, and construction sites, are more likely to experience the negative impacts of diesel exhaust. In the Portland metro area, African American and Latino populations face up to three times higher exposure rates, due to their proximity to high development and transportation activities.
Diesel exhaust is the largest source of black carbon particles in the United States. Black carbon is a major contributor to global warming, second only to carbon dioxide. These particles are released into the atmosphere and absorb heat, which can increase air temperatures. When they fall on snow and ice fields, they absorb light and release heat, causing an increase in melting rates.
Why is the Portland Metro Area at a greater risk of exposure to diesel exhaust?
According to the Oregon Department of Environmental Quality (DEQ), Portland has a higher health risk from air toxins exposure compared to less densely populated areas of the state. DEQ has identified that the toxins of greatest concern in Portland are benzene, polycyclic aromatic hydrocarbons (PAHs), and soot from diesel engines. Since Portland is at a greater risk of exposure to these toxins, and since the increased risk is primarily due to diesel exhaust, it is likely that people living in the Portland Metro area are at a higher risk of exposure to diesel exhaust. This risk is primarily driven by the population density of the Portland Metro area, the number of vehicles on the roads, and the amount of construction, freight, marine, and rail activity within the Metro boundary.
How can diesel exhaust be reduced or controlled?
Improved technology can significantly reduce pollution from diesel engines, as we've seen in the commercial trucking industry over the last 15 years. These technologies include improved engine design, idle reduction, and cleaner fuels, as well as exhaust aftertreatment technologies such as improved catalysts, diesel particulate filters, and NOx reduction technology. Regular inspection and maintenance to ensure that the control technology is functioning properly is also important in keeping emissions rates low.
Why does the Clean Air Construction initiative focus on construction vehicles and equipment?
Construction equipment is designed and built to have a long lifespan, and it is not uncommon to see equipment that is 30+ years old on job sites. These older vehicles do not have the advanced pollution control technology for NOx and fine particulates that comes standard on the US EPA Tier 4 equipment that is manufactured today. Also, there are few incentives for business owners to retrofit or replace older equipment if that equipment remains operational.  The Clean Air Construction program leverages public dollars to reduce diesel emissions on public construction projects, which in turn helps to minimize a large source of diesel emissions in the Portland area. Since these types of projects are within the Portland city limits, meaningful reductions will occur where people actually live and breathe.
What are the health impacts of diesel exhaust?
Exposure to diesel exhaust can have immediate health effects. Diesel exhaust can irritate the eyes, nose, throat, and lungs, and it can cause coughs, headaches, lightheadedness, and nausea. Exposure to diesel exhaust also causes inflammation in the lungs, which may aggravate chronic respiratory symptoms and increase the frequency or intensity of asthma attacks and increase susceptibility to respiratory diseases like COVID-19.
Diesel particulate matter is a known human carcinogen. There are also non-cancerous, long-term health effects associated with exposure which include asthma, heart disease, chronic lung disease, neurological damage, and premature mortality.
What are the societal costs of diesel exhaust?
The levels of diesel pollution in Oregon result in significant public health impacts. Including:
Over 400 premature deaths

Over 140 non-fatal heart attacks

Over 25,000 work loss days
The monetized value of diesel pollution health impacts in Oregon exceeds $3 billion annually.
Who is most impacted by diesel exhaust?
The elderly, people with respiratory and cardiovascular diseases, children, and certain occupations such as railroad workers, truck drivers, loading dock workers, diesel mechanics, and construction equipment workers are most impacted by diesel exhaust due to their increased sensitivity and exposure to fine-particle pollution. In Oregon alone, over 29,000 workers are at risk of negative health effects from diesel exhaust. Children in particular are more susceptible to the effects of fine particles, which can lead to increased frequency of childhood illnesses and reduced lung function.
Who do I contact with questions related to the CAC initiative?
To assist Oregon's diesel fleets to navigate these new regulations, we've compiled as much helpful information as possible regarding Oregon's various emission reduction programs and initiatives.
Learn about DEQ Oregon's Grant program and how to get funding to improve your fleet's emission reductions and bring those older diesel vehicles into compliance. Oregon Diesel Grants page.
Or feel free to contact Jeff Wells our Retrofit Manager at DES Portland for any of your retrofit-related questions.
Do you have a medium- or heavy-duty diesel vehicle powered by a 2009 or older engine? Phase-out periods for these vehicles are also coming!
DES Portland can help you plan ahead for these additional regulations and vehicle restrictions arriving in both 2025 and 2029.

Diesel Emissions Services (DES) has successfully installed well over 15k retrofits in California and across the United States. Our Portland OR location has a complete DPF Cleaning facility and a full inventory of aftertreatment parts for servicing emissions systems. We have the equipment, expertise, and experienced retrofit installers for whatever you need.
We are honored to assist heavy-duty diesel fleets and equipment operators in the State of Oregon to help improve air quality and the environment for future generations.
We hope you found this article helpful. At DES, we believe in putting out educational and informative content to not only our customers but for the general industry to grow and benefit from.
To share this article, use one of the social media icons above.
DES is a recognized leader in the diesel emissions industry. We provide a wide range of services for municipalities, fleet operators, and all manner of transportation and construction businesses all across the west coast.
We're social, follow DES on your social network of choice.
More News
Get the latest on the industry and DES.