Oregon's Diesel Retrofit Compliance Program
In an ongoing bid to reduce pollution, Oregon's Diesel Retrofit Compliance Program is nearing a major milestone on January 1st, 2023. If you live in the Portland metro area and have an older medium- or heavy-duty diesel vehicle, this program may apply to you!
We're breaking down the retrofit compliance program in Oregon, so keep reading to learn which vehicles are impacted and how to stay in compliance.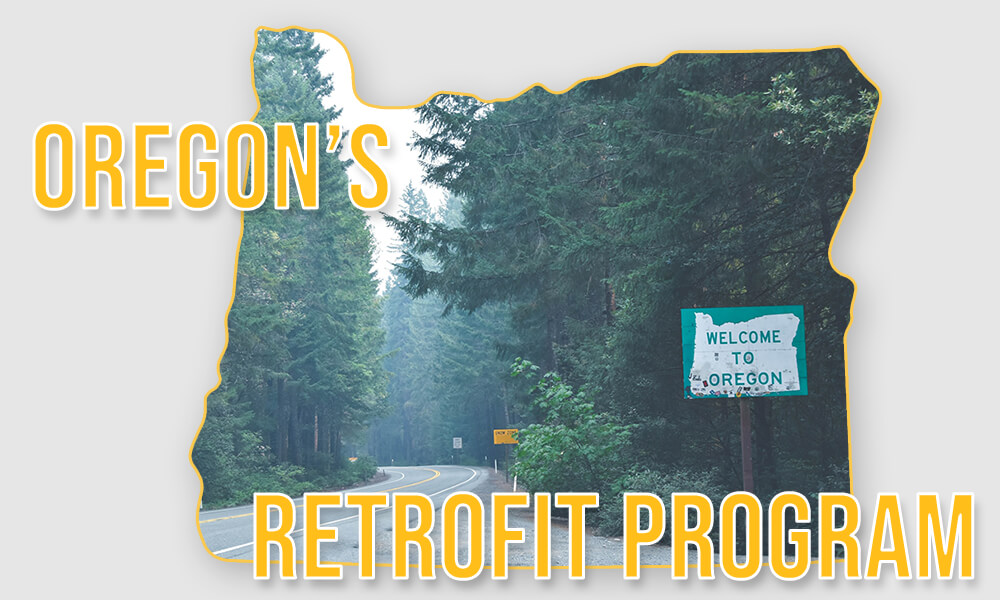 Why is Oregon phasing out older diesel engines?
Even though diesel emission-reducing technology has improved in the last few decades, the state of Oregon is still seeing significant pollution from older on-road diesel engines. One method to reduce these harmful emissions includes the installation of appropriate retrofit technology. Retrofits are aftermarket systems that are installed on a vehicle to reduce pollution from diesel engines.
In 2019, the Oregon Legislature responded to these concerns and passed HB 2007 (2019) to reduce diesel emissions in Oregon. The bill requires DEQ to approve retrofit systems for use in medium- and heavy-duty diesel engines, including box trucks and tractor trailers, and to create a method for issuing certifications of compliance.
It also establishes deadlines for older diesel engines after which they cannot be titled or registered in Clackamas, Multnomah, and Washington counties.
Lastly, the bill establishes renewal, registration, and titling phase-out dates, as well as exemptions on certain vehicles.
Which vehicles are affected by this program?
Medium- and heavy-duty vehicles with a 1996 or older engine model year are subject to the phase-out date of January 1st, 2023. That means they will not be able to be registered in Clackamas, Multnomah, and Washington counties without an approved retrofit emissions system.
The engine model year is on the vehicle emission label. Contact a local engine dealer or the manufacturer to get a replacement label if it's missing or illegible. Typically, the engine model year is one year older than the chassis model year. For example, a 1997 vehicle typically has a 1996 model year engine installed.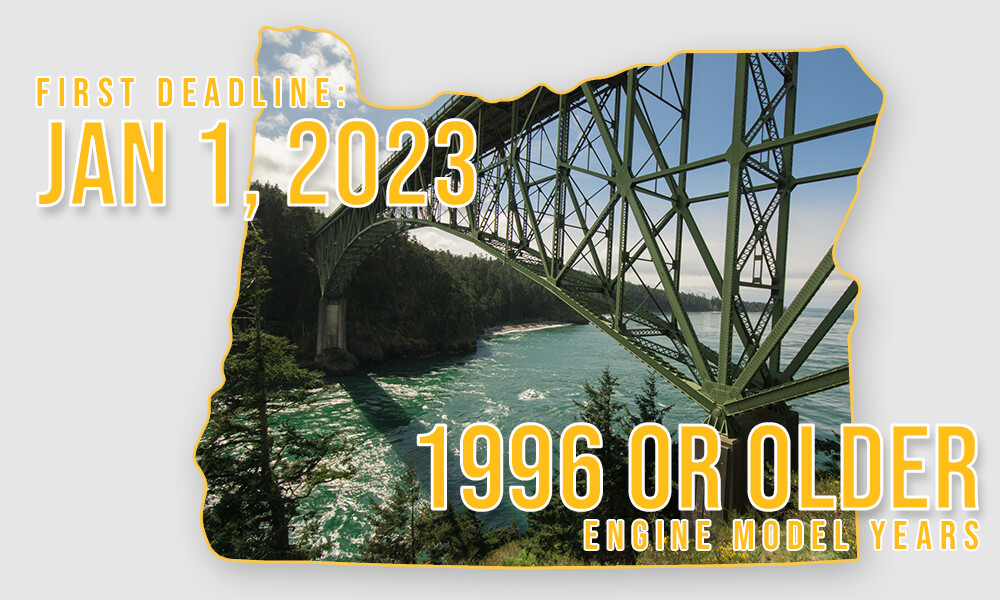 The two vehicle weight classifications categorized in HB 2007 (2019) are:
Medium-duty with a gross vehicle weight rating of 14,001 – 26,000 lbs. (box trucks, flatbeds, service trucks)

Heavy-duty with a gross vehicle weight rating of over 26,000 lbs. (tractor-trailer trucks)
How much does a retrofit cost?
Retrofits can cost a lot but there are ways that businesses and municipalities in Oregon can get help. HB 2007 (2019) authorized DEQ's Diesel Emissions Mitigation Grant Program to provide grant funding, subject to availability, to support the purchase of retrofit systems, as well as cleaner burning engines and diesel equipment replacements.
Vehicle owners who apply and are awarded the grant funding will be eligible for up to 100% of the retrofit cost. It's estimated that DEQ will have approximately $8 million available each year until at least 2026.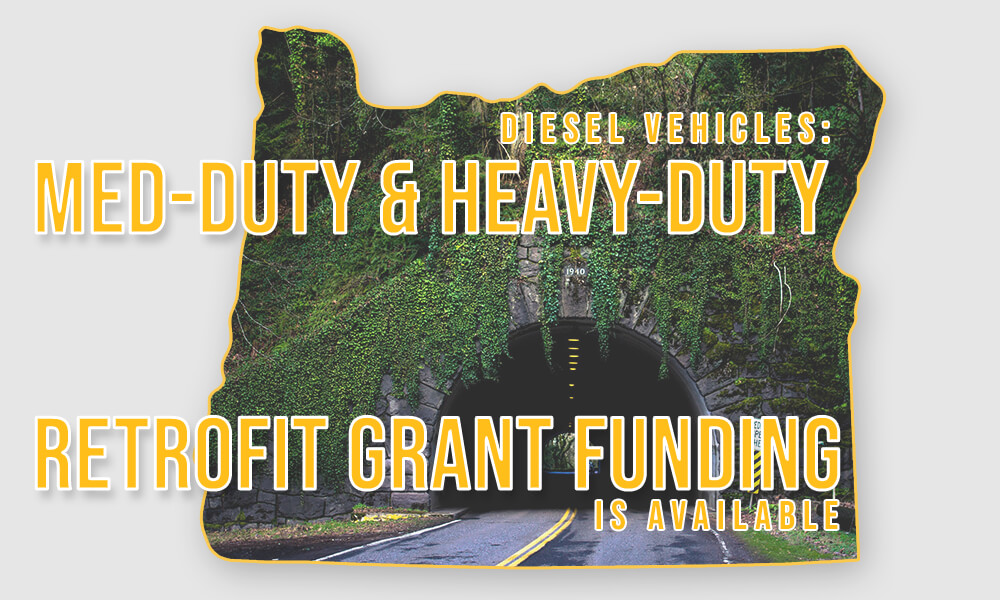 How does the retrofit process work?
STEP 1: Contact DES Portland.
We have completed over 18,000 retrofits, so we know what we're doing! We'll go over what type of retrofit system is right for your vehicle and will get you in compliance with the state of Oregon. Our retrofit systems are EPA and CARB verified.
STEP 2: Retrofit installation & certification
We install your retrofit system, and you submit your application for DEQ certification. The certification shows that your retrofit meets their requirement of at least 85% reduction of emissions.
STEP 3: Registration
Once you receive your electronic DEQ certification, you can renew your registration with ODOT.
Don't wait to begin the process! Scheduling your retrofit can take time, and DEQ can take up to three months to provide certification.

Key dates for 2023 for grant funding:
The estimated dates of the grant application and deadlines are below. These are subject to change based on the timing and availability of funds and the schedule of implementation tasks.
April 3, 2023: The grant program opens for applications.
June 6, 

DEADLINE EXTENDED to JULY 6th, 2023: 

The grant program closes for applications.
Aug. 15, 2023: Grant awards announced.
Jan. 15, 2024: Funding for projects becomes available.
To help Oregon's diesel fleets navigate these new regulations, we've compiled as much helpful information as possible regarding Oregon's numerous emission reduction programs and initiatives.
Learn about DEQ Oregon's Grant program and how to get funding to improve your fleet's emission reductions and bring those older diesel vehicles into compliance. Oregon Diesel Grants page.
Or feel free to contact Jeff Wells our Retrofit Manager at DES Portland for any of your retrofit-related questions.
Do you have a medium- or heavy-duty diesel vehicle powered by a 2009 or older engine? Phase-out periods for these vehicles are also coming!
DES Portland can help you plan ahead for these additional regulations and vehicle restrictions arriving in both 2025 and 2029.

Diesel Emissions Services (DES) has successfully installed well over 15k retrofits in California and across the United States. Our Portland OR location has a complete DPF Cleaning facility and a full inventory of aftertreatment parts for servicing emissions systems. We have the equipment, expertise, and experienced retrofit installers for whatever you need.
We are honored to assist heavy-duty diesel fleets and equipment operators in the State of Oregon to help improve air quality and the environment for future generations.
We hope you found this article helpful. At DES, we believe in putting out educational and informative content to not only our customers but for the general industry to grow and benefit from.
To share this article, use one of the social media icons above.
DES is a recognized leader in the diesel emissions industry. We provide a wide range of services for municipalities, fleet operators, and all manner of transportation and construction businesses all across the west coast.
We're social, follow DES on your social network of choice.
More News
Get the latest on the industry and DES.