You're invited to a free, informational OPEN HOUSE!
Topic: How to Navigate Oregon's New Emissions Reduction Programs.
If your company or fleet operates older diesel vehicles/equipment in the State of Oregon, there are new regulations that will affect you, and grant programs that can provide assistance.
We understand that this can be a complex and challenging subject. This open house is designed to equip you with the information you need to move forward.
When: April 26th, 2022 at 2pm & 6pm (please choose 1)
Where: Diesel Emissions Service, 9861 North Vancouver Way Portland, OR 97217
Reserve your spot, please RSVP.
ATTENTION OWNERS OF VEHICLES WITH DIESEL ENGINES IN OREGON
You may be eligible for grant funding! The state of Oregon has a grant program that affects you, in order to benefit you need to act quickly!
What You Need to Know!
Owners of Commercial Vehicles with Diesel Engines in the State of Oregon are now eligible for a grant that will pay for a retrofit on their vehicles.
This is an exciting opportunity to reduce the harmful diesel emissions your vehicle emits, paid for by the State! Do your part to reduce the carbon footprint of your vehicles.
There is a short window of time to apply for grants in 2022.
Oregon DEQ will be accepting grant applications for diesel-powered vehicles from April 5 to June 7, 2022.
We Will Take You Step-by-Step Through the Process
Diesel Emissions Service is your partner for the application process! We've sent additional personnel to our location in Oregon to help you navigate the grant application process, provide vehicle evaluations and estimates for the retrofits.
With over 18,000 emission control devices installed by our expert teams, we know retrofits! We can assist in choosing the right retrofit for your application, then our professional installation crews will install the system to ensure peak performance and durability.
STEP 1:
Call DES to discuss any questions you might have.
STEP 2:
Schedule DES to complete a Pre Assessment and install a data logger on each vehicle you want to apply for the grant with.
STEP 3:
Complete the application process from the Oregon DEQ between

April 5 & June 7, 2022

.
Applicants will need to follow these steps for the application process:
 – Identify or obtain a Data Universal Number System (DUNS) Number
 – Identify vehicle's vehicle identification number (VIN)
 – Identify Engine Family Name (EFN)
 – Submit required documents
 – Complete and submit an online application on WebGrants
For more details download the pdf:
STEP 4:
Once data logging is complete we will give you a quote to submit with your application package.
Take the
First Step
Owner-operators, fleets, municipalities, and construction companies looking to apply for these funds should contact Diesel Emissions Service to schedule a call or site visit to help with the application phase.
We can retrofit almost any diesel vehicle!
More information on Oregon DEQ's Diesel Mitigation Grant Program:
Here is a link to the official Oregon DEQ Diesel Mitigation Grant Program page. This explains in more detail how the grant funds can be used, eligibility requirements, and more. DES will be breaking this down and providing easy-to-follow steps to apply for these funds.
Key dates:
 – April 5 to June 7, 2022: Time range to complete & submit grant applications.
 – Aug. 8, 2022: Grant awards announced.
 – Nov. 15, 2022: Funding for projects becomes available.
Eligibility Key Points:
 – Eligible trucks would be 1992-2009 engine year models.
 – Eligible Buses would be 2009 or older, class 4-8, and a GVWR greater than 14,000 lbs and used for transporting people.
 – Eligible diesel equipment would be one in the following categories: large trucks, buses, freight switchers, ferries and tugs, medium trucks, airport ground support equipment, forklifts, or port cargo handling equipment.
 – Eligible Off-Road vehicle means a diesel engine of more than 25 horsepower that is not designed to propel a motor vehicle on public highways.
You can watch this video from the Oregon Department of Environmental Quality which outlines the DEQ Diesel Emissions Mitigation Grant Program.
Links to Oregon DEQ info:
Oregon DEQ provided Diesel Grant Fact Sheet link: DieselGrants-FS.pdf
The grant amount allowed is shown under 340-255-0040 Eligible Grant Amounts. For the retrofitting of vehicles, the grant amount is 100% under DERA guidelines. To see amount thresholds for repowers or replacements view the link below.
Oregon DEQ is updating its Fleet form but this link will show you what information will be required to include in the application process. Download the spreadsheet: DEQ Fleet info form
See the approved Retrofit Installers list from Oregon DEQ at bottom of this linked page: Federal DERA Grants
Or check out these links below:
As you can see DES is approved for virtually all device manufacturers. We will recommend the product which is the most appropriate for your vehicle and duty cycle, this is why we offer many brands and configurations of retrofits as there is not a one-size-fits-all with these systems.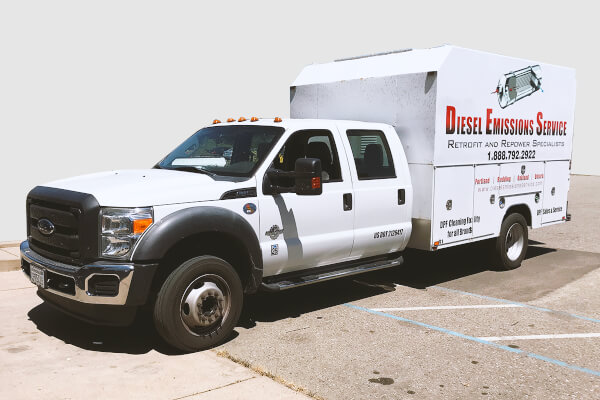 Diesel Emissions Service (DES) is an industry expert in retrofitting, which is a more cost-effective solution for diesel vehicles that have at least 3 years of life left. Retrofitting can stretch your budget further and help minimize the replacement bubble as others age out of the system.
We've installed over 18,000 emission control devices since 2006 all across the west coast. With our Portland location and our expert installation teams, your emission needs are covered.
Let the aftertreatment specialists at DES assist you today.