Since its inception, Diesel Emissions Service has been helping fleets reduce their emissions. CEO Steve Hoke was recently interviewed on IDLE TALK with GoGreen Communications CEO Ron Zima. During the interview, they discussed the importance of reducing idle times for heavy-duty fleets, why they should, and the downstream costs associated with excessive idling.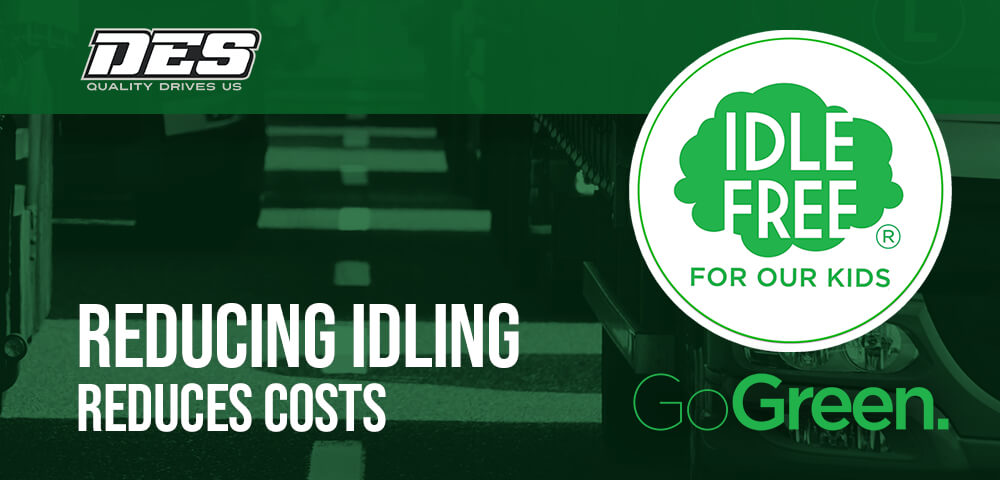 According to Argonne National Laboratory, long-haul heavy-duty trucks consume more than a billion gallons of fuel per year just during rest stops; including work trucks and passenger cars, over six billion gallons of gasoline and diesel fuel combined are wasted on idling annually.
The topic of reducing idling behavior has been controversial in the heavy-duty industry. Large fleets use their resources to analyze idling costs, while smaller fleets can feel helpless. In addition, factors like city traffic, driver behavior, and municipal and off-road duty cycles further complicate the issue.
About DES and IDLE FREE for our kids® for Fleets
DES was established in 2006 as the emissions division of parent company North State Truck Equipment, Inc., which has been serving the heavy-duty truck market since 1978. DES was established to help California businesses meet and exceed the strict CARB and EPA emissions regulations placed on diesel trucks. Since 2006, DES has sold and/or installed over 15,000 emissions control devices and is now an industry leader in diesel emissions on the west coast and beyond.
Ron Zima was the classic North American idler, leaving the car running in his daily life. He believed it didn't use much gas, and there was no harm in idling. However, a conversation with his children's school principal led him to discover that idling not only wastes money and creates emissions, but also harms the health of adults and children alike. Ron started IDLE FREE for our kids® in 2006 and has since grown his company GoGreen Communications Inc. to include fleets across North America. With the IDLE FREE for our kids® for Fleets eLearning program, fleets can reduce idle time up to 80%.
Both Steve and Ron believe that going idle free is an easy way for fleets to save money and look like heroes to their customers.
Reducing idle times has many benefits for fleets. Minimizing the time, the engine is running uses less fuel, and creates fewer emissions. What most fleets don't realize, however, is that excessive idling has major downstream costs besides these. Both DES and GoGreen encourage fleets to reduce their idle times for big rewards.
In the past, much of the argument for going idle free relied on guilt and shame, as the transportation industry is one of the highest carbon emitters. However, IDLE FREE for our kids® for Fleets relies on winning the 'hearts and minds' of drivers. Greater than 80% of the time, drivers flip their old beliefs and behaviors on idling an engine. At home and at work!
But Isn't Idling Good for the Engine?
There is a pervasive myth among diesel drivers that idling is good for the engine. However, "diesel-powered engines hate idling," Ron said in the interview. Steve explained further that "the diesel engine is at its dirtiest at startup… the second dirtiest [is] idle time." Manufacturers design the emissions control system to work best when the engine is in motion with a load. This myth leads to thousands of dollars in unnecessary costs.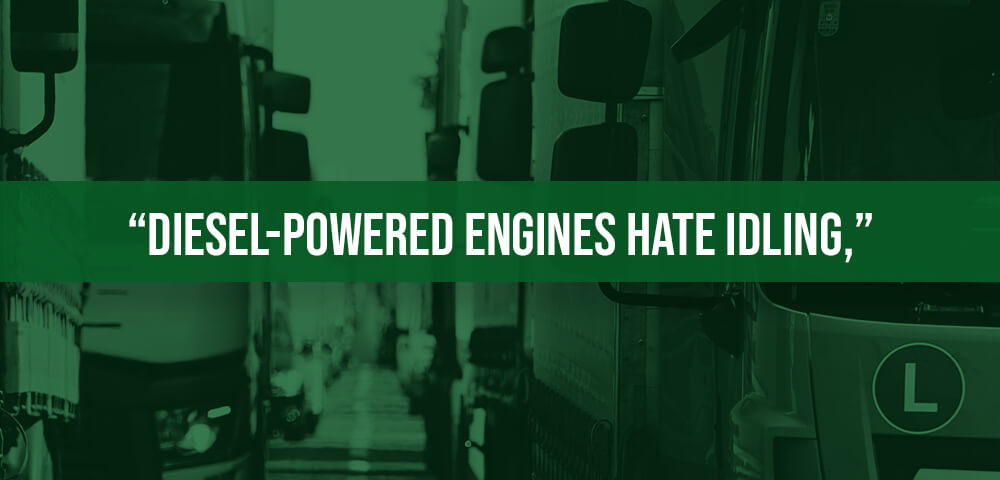 Downstream Costs of Driver Idling Behavior
Idling increases wear and tear on the engine, thereby accelerating the maintenance schedule and increasing the risk of expensive repairs. Steve shared an infographic during the interview consisting of data gathered by the American Trucking Association's Technology & Maintenance Council (TMC).
The average cost of a heavy-duty emissions repair is $514.

The average cost of a roadside breakdown is $448 through $760.

Fleets average 213,967 miles between emissions failures.

A fleet with 500 trucks spends $27k a month on emissions repairs, up 1837% from pre-2010 numbers.
These statistics show that reducing emissions system repairs by reducing idle time is an easy cost-saving measure for fleets.
Savings From Going Idle Free
"Idle time is a proxy for productivity," Steve commented. If a truck isn't moving, it's not making money for the fleet. Factoring in idle time means that during the colder months or during city driving, idle time could be drastically cutting into profits. Reducing idle times by even a small percentage can increase a fleet's profit margin.
In addition, by increasing the maintenance interval, fleets can reduce the amount of downtime per truck. In most parts of the country, a DPF cleaning service takes about 24 hours, during which time the truck is out of service. Lowering idle time is a great way to get more in-service time from each truck.
Much of the idle reduction efforts in the heavy-duty industry have centered around larger fleets. Large fleets can use advanced and expensive hardware to monitor idle time across the fleet, but this may be out of reach for some smaller fleets. A more cost-effective way for these smaller fleets to reduce idle time is to change the behavior of drivers.
IDLE FREE for our kids® for Fleets eLearning Program
IDLE FREE for our kids® for Fleets consists of short, engaging, unforgettable videos and interactive lessons and the popular IDLE FREE Calculator that can be accessed anywhere in the world on a computer or smartphone. The curriculum transforms driver behavior by using GoGreen's three universal values in terms of the impact of their unconscious idling habit on: 'their kids, their cars, their cash'. Drivers love the program! They save fuel and emissions in their personal vehicles and then bring their idle free behavior to work, often thanking management for the program! Steve recommended the course for all drivers and fleets across the country.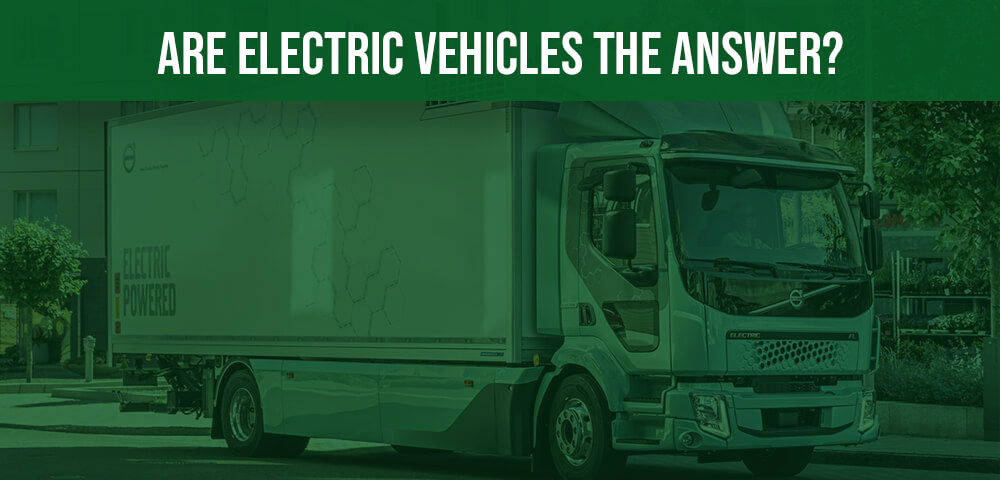 Won't Electric Vehicles Solve the Problem?
When will EVs replace heavy-duty trucks? Longer than 40 years from now, says Steve, due to electric vehicles not having the range, torque, and horsepower of diesel engines, as well as limited charging station availability. And while electric vehicles might seem like the answer to emission problems, their eco-friendliness may be outweighed by the production and use of lithium batteries. Time will tell, but for now, reducing idle time is one of the most cost-effective ways for fleets to lower emissions and save on fuel.
Reducing Your Fleet's Idle Time
If advanced idle-tracking and battery-backup systems aren't in your fleet's budget, an eLearning course like IDLE FREE for our kids® for Fleets will encourage your drivers to reduce idle times. Fleet maintenance managers can also discover the lower maintenance costs associated with going idle-free. Finally, the entire business will thrive when less idling leads to higher profits.
Have questions about the DPF cleaning schedule that's right for your fleet?
At DES we believe in putting out educational and informative content to not only our customers but for the general industry to grow and benefit from.
DES is a recognized leader in the diesel emissions industry. We provide a wide range of services for municipalities, fleet operators, and all manner of transportation and construction businesses across the West Coast.

Diesel Emissions Service (DES) is a division of North State Truck Equipment Inc, a family-owned business, who has been providing bus and truck repair solutions since 1978.  In 2006, we started focusing on diesel aftertreatment retrofits (DPFs, DOCs, SCRs), troubleshooting, repair, and services to help customers in applying the correct technology for compliance with the growing clean-air regulations.  Since that time, we have sold and installed more than 18,000 aftertreatment devices across the country.
We have two locations in California as well as facilities in Portland, Oregon, and Surrey (Vancouver), British Columbia. DES offers a full line of DPFs and DPF accessories through the Redline Emissions Products® brand – including DPFs, DOCs, clamps, gaskets, weld bungs, CACs, sensors, etc. at our online superstore. We also carry brands like Durafit, Skyline, GESI, Redline Detection, Filtertherm®, and more.
If you would like to schedule an appointment for your commercial truck, contact us today.
We're social, to stay informed follow DES on any or all of these platforms.
More News
Get the latest on the industry and DES.