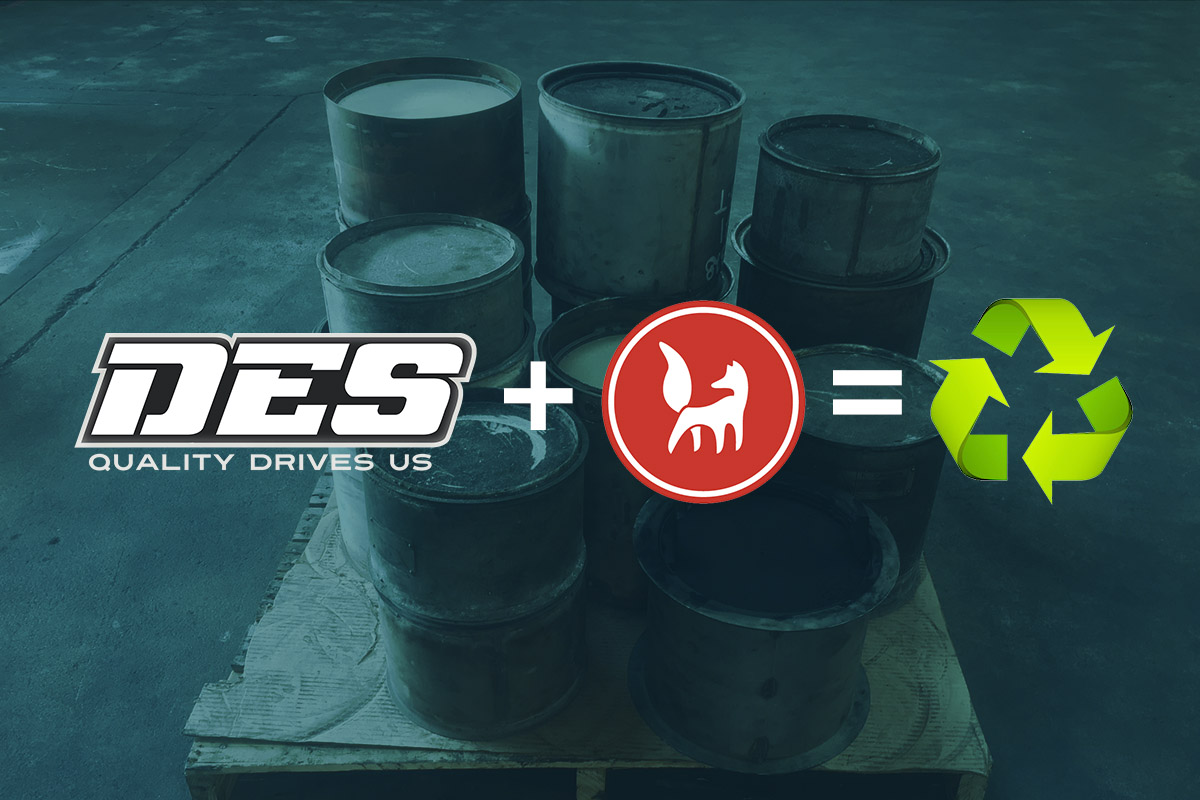 How does a company like DES recycle DPFs and other spent aftertreatment parts? Simple, we use Red Fox Resources!
Recently DES was featured in a DES Customer Profile on Red Fox by Red Fox Resources, a company that specializes in recycling diesel particulate filters (DPFs) and diesel oxidation catalysts (DOCs) from trucks, buses, heavy equipment, and generators at the end of their useful lives through a compliant buy-back program.  They also feature deep regulatory expertise in navigating emission regulations both at the local, state, and federal levels to help customers dispose of spent emissions responsibly and in compliance.
DES is committed to operating all our locations in an environmentally responsible and compliant manner and Red Fox is a key part of our recycling program. Working with Red Fox to attain this has been an excellent experience.

So how does DPF recycling work?
DES collects the spent DPFs and DOCs from each of our service locations to a central facility. When we're ready to have a load of parts recycled, we call Red Fox. They come out to the facility in which the parts are collected and provide a per-piece quote. When the quote is agreed upon, Red Fox handles the transportation of the parts to their Oakland facility, and the recycling load is processed.
A recent recycling load we had consisted of over 300 parts and the prices per part ranged from $0 for the uncatalyzed parts to over $600 per part. Red Fox provided payment and a release of liability to DES within 15 business days.
"Red Fox provides a compliant solution to our DPF and DOC recycling needs and provides liquidity to a commodity that can be tricky to try to manage ourselves. When we process recycling loads through Red Fox, we know we'll get paid what they said we would, when they said we would. But more importantly, we know that when we use Red Fox, our recycling will be completed in a manner that is consistent with our environmental compliance standards and aligned with our sustainability goals."
Steve Hoke, President – Diesel Emissions Services
Learn more about Red Fox Resources:
Read full customer profile article here:
We hope you found this article helpful. At DES believe in putting out educational and informative content to not only our customers, but for the general industry to grow and benefit from.
To share this article use one of the social media icons above.
DES is a recognized leader in the diesel emissions industry. We provide a wide range of services for municipalities, fleet operators, and all manner of transportation and construction businesses all across the west coast.
Diesel Emissions Service (DES) is a division of North State Truck Equipment Inc, a family-owned business, who has been providing bus and truck repair solutions since 1978.  In 2006, we started focusing on diesel aftertreatment retrofits (DPFs, DOCs, SCRs), troubleshooting, repair, and services to help customers in applying the correct technology for compliance with the growing clean-air regulations.  Since that time we have installed more than 15,000 retrofits across the country. 
We have four west coast locations. 2 in California as well as facilities in Portland, OR, and Surrey (Vancouver), BC. DES offers a full line of DPFs and DPF accessories through the Redline Emissions Products® brand – including DPFs, DOCs, clamps, gaskets, weld bungs, CACs, sensors, etc at our online superstore. We also carry brands like Durafit, Skyline, Filtertherm®, and more.
We're social, to stay informed follow DES on any or all of these platforms.
More News
Get the latest on the industry and DES.