Fleets that operate, maintain, and repair commercial trucks have many expenses. One expense that consistently ranks in the top is diesel emissions systems. Learn how to contain emissions costs.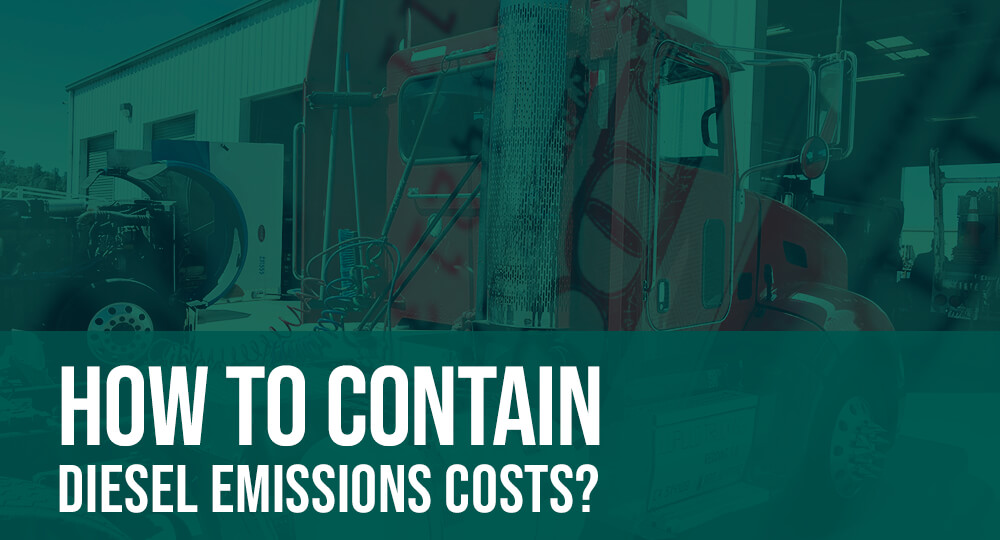 When diesel emissions systems were first introduced in 2007 and updated in 2010, vehicle owners relied on the manufacturers' recommendations. Their costs skyrocketed and this led to a lot of frustration on the part of vehicle owners, especially in the commercial fleet business.
Changing Maintenance Practices to Lower Costs
As time has passed commercial fleets gained more real-world experience with these systems. Fleets are now able to use their own data, as well as data from repair centers like ours, to align maintenance intervals with the everyday working environments their trucks operate in.
Instead of using manufacturers' recommendations that are really for ideal scenarios and don't reflect the realities of what their fleets are dealing with on a day-to-day basis, fleets are able to make their own decisions based on solid data.
Jack Roberts wrote an article for HDT about this in 2019, and he quoted some of the fleets' comments about how they have contained emissions costs. These comments illustrate the importance of adjusting maintenance practices to control costs and basing maintenance and repair decisions on real-world data.
"…We really don't have a lot of problems with exhaust systems today, generally speaking. But we used to. And the reason we don't have them today is that we are fundamentally changing our thinking and our procedures to address the problem."
"…Batesville, too, is unhitching itself from the OEM recommendations on exhaust maintenance. After investing big money in a DPF cleaning machine, he says, his technicians discovered that if they waited until 300,000 or 400,000 miles to pull the filter and clean it, as recommended by the OEMs, carbon was packed so tightly into the unit that the entire exercise was pointless. Today, he says, his technicians routinely pull DPFs every 100,000 miles for cleanings, which has helped with both maintenance costs and fleet fuel economy averages."
Addressing Upstream Issues
The other key shift in thinking is to look at the big picture of why emissions issues are happening in the first place. Checking upstream for fluid and exhaust leaks and other issues is vital to avoiding the same emissions failures from just returning which causes more downtime and drives up the total cost of operation.
This quote from the HDT article really emphasizes the point about upstream issues:
"Everything runs downstream, but too many fleets and dealers just replace a part that's failed and never bother to trace the problem upstream to find out if the problem is being caused by a seemingly unrelated issue."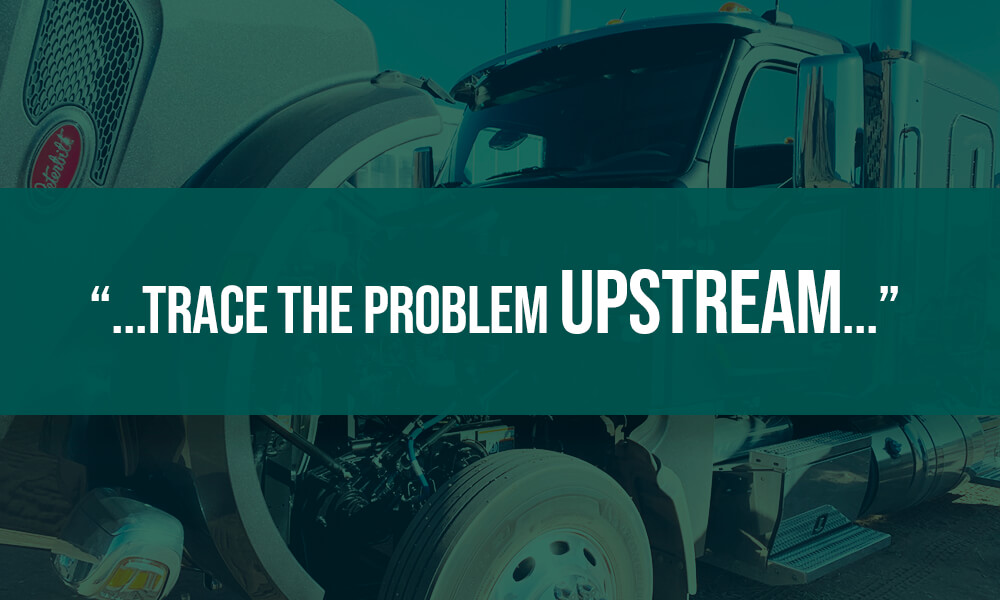 Many fleets make the mistake of treating the exhaust system as if it's a self-contained entity that is somehow separate from the rest of the engine. It is not, rather issues with the components in the diesel emissions system are often just the symptom of a problem, not the root cause. Throwing replacement parts at the symptom never addresses the root cause and this strategy leads to much higher repair and maintenance costs in the long term.
A Comprehensive Maintenance Plan
At the Diesel Emissions Service repair shops, we have been performing emissions cleanings and repairs for 15+ years, and our experience agrees with what these fleet managers have discovered.
DES recommends that DPF filters be cleaned yearly or every 75-100k miles. This regular cleaning interval of the diesel particulate filter, which is a serviceable filter and does not need to be replaced every time, keeps the filter from being clogged with soot and ash triggering a fault code putting the vehicle into a derate or limp mode. It will also ensure that the volumetric efficiency of the DPF will keep back pressure to a minimum.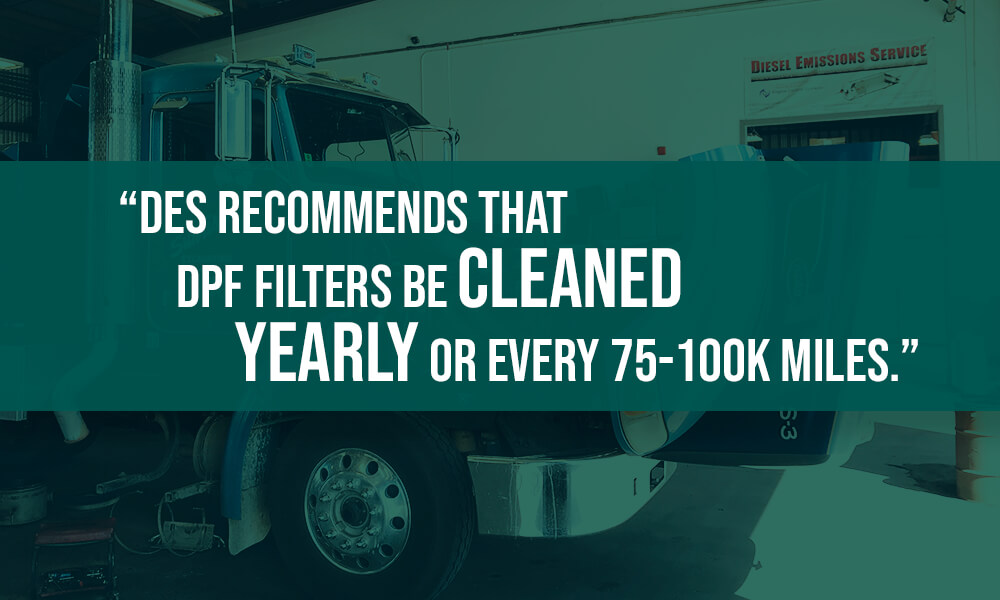 We also focus on getting to the bottom of an issue and evaluating upstream systems based on years of operating full-service diesel repair facilities. You can't just clean the DPF or replace a diesel particulate filter and expect that the problem is solved without addressing the root cause of the problem.
We recommend that when the DPF is removed for cleaning an opacity test is completed, this will give a quick snapshot of any upstream engine upset conditions. This is key as when the DPF is installed you won't see any smoke coming out the tailpipe until the DPF has failed.
Large fleet operations can also benefit from having their own cleaning equipment while tracking their emissions metrics and adjusting cleaning/maintenance intervals to their situation. This can drastically cut costs and downtime. With Filtertherm's new Aqueous DPF Cleaning package, truck downtime can be minimal with DPF services taking under 2 hours to remove, inspect, wash, dry, inspect and re-install. This is a gamechanger for fleets.
Education is an Important Part of Lowering Emissions Costs
At DES we believe in putting out educational and informative content to not only our customers but for the general industry to grow and benefit from.
DES is a recognized leader in the diesel emissions industry. We provide a wide range of services for municipalities, fleet operators, and all manner of transportation and construction businesses across the West Coast.

Diesel Emissions Service (DES) is a division of North State Truck Equipment Inc, a family-owned business, who has been providing bus and truck repair solutions since 1978.  In 2006, we started focusing on diesel aftertreatment retrofits (DPFs, DOCs, SCRs), troubleshooting, repair, and services to help customers in applying the correct technology for compliance with the growing clean-air regulations.  Since that time, we have sold and installed more than 18,000 aftertreatment devices across the country.
We have two locations in California as well as facilities in Portland, Oregon, and Surrey (Vancouver), British Columbia. DES offers a full line of DPFs and DPF accessories through the Redline Emissions Products® brand – including DPFs, DOCs, clamps, gaskets, weld bungs, CACs, sensors, etc. at our online superstore. We also carry brands like Durafit, Skyline, GESI, Redline Detection, Filtertherm®, and more.
If you would like to schedule an appointment for your commercial truck, contact us today.
We're social, to stay informed follow DES on any or all of these platforms.
More News
Get the latest on the industry and DES.